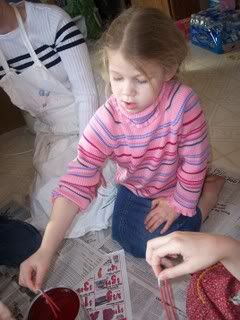 Lindsay looking at her maize book--dressed like a pioneer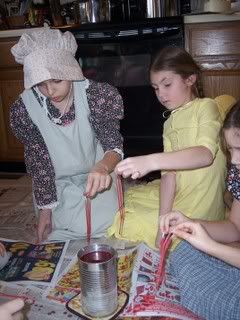 dipping candles
Making biscuits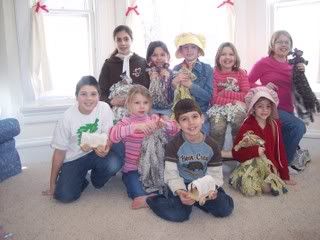 making rag dolls and covered wagons
Well, things have been very busy here. We have joined a co-op that we do once a week. The kids are having such fun. THey have been doing frontier life and have made rag dolls, covered wagons, maize books, embroidery, making a pattern, candles, butter, biscuits, and an old fashion meal to top it all off. It has been so much fun.
Our new theme is pets and pet care. We will be having a lecture from a lady that trains seeing eye dogs, she will bring atleast one dog. We are taking a trip to the humane society, doing a collage on pets, breeds and classes of dogs. We are making dog biscuits and trying to find which one the dogs like best... Oh, it will be fun... I think I am having as much fun as the kids. :)
I hope this January everyone is staying warm. We have had nothing but cold, cold weather!!! I am very tired of the cold. It seems to never cease this winter.
Anyway, you have been duly caught up on our lives and hope you feel very informed:)